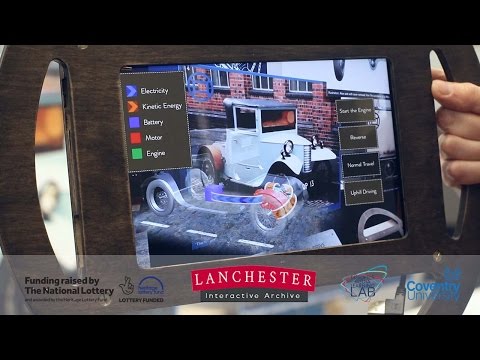 Watch the latest video that explains the story behind the Lanchester Interactive Archive and more about the inventor and engineering genius Frederick Lanchester.  The new space is based in Coventry University's Lanchester Library and aims to share and explore the story of Britain's 'Leonardo da Vinci'.
Opened in April 2017, the space is available for schools, community groups and the public to explore the inventions and engineering genius of Fred Lanchester using augmented reality, serious games and even a real Lanchester car!
As the creator of the first all-British motor car in 1895 and author of over 200 patents on everything from flying machines and inflatable buildings to turbo-charging and four-wheel drive, his little-known legacy is a fantastic resource for bringing to life STEM subjects and much more.
Come down and visit the space for yourself, we're open seven days a week, or contact the Outreach team, who are available to come into schools and facilitate free workshops or book visits to the space itself for a unique trip.